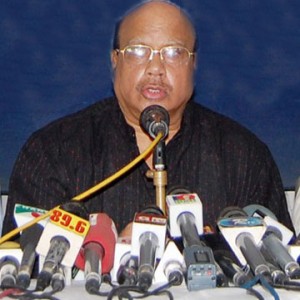 Dhaka, 27 September, Abnews : Awami League (AL) Presidium Member Mohammad Nasim said here on Thursday that AL does not want to cling to power through vote rigging or holding a farcical national election. AL believes in democracy, it does not believe in vote rigging or vote dacoity, it wants to go to power for the secondtime with people's mandate through a free , fair and credible national election, he said.
Nasim said this while addressing as chief guest a discussion on 'political career of former lawmaker and AL leader Fazlur Rahman Khan' on Netrakona Central Shaheed Minar premises. Fazlur Rahman Memorial Meeting Udjapan Parishad organized the meeting to mark the 5th death anniversary of the former lawmaker and president of district Awami League.
Chaired by the president of the Udjapan Parishad and former lawmaker Advocate Sadiruddin Ahmed, the meeting was addressed, among others, by organizing secretary of Bangladesh Awami League Ahmed Hussain, veteran freedom fighter and lawmaker Ashraf Ali Khan Kasru, Monjur Kader Kuraishi, MP, acting president of district Awami League and chairman of Netrakona Zila Parishad Motiur Rahman Khan vice present of Bangladesh Krishak League Chobi Bishwas, chairman of Netrakona Sadar Upazila Parishad Professor Tafsiruddin Khan mayor of Netrakona Pourasabha Prasanta Roy and joint secretary of district Awami League Nazrul Islam Khan.
Nasim said there is no alternative to holding nationalelection under the constitution, so the upcoming national election must be held in the period between October 24 andJanuary 24 next. He urged the people to cast their votes in favour of AL candidates in the upcoming national election.
Abn/Fri-01/Politics/Desk/MR/Mustafiz/Fatama
রিপোর্ট শেয়ার করুন »