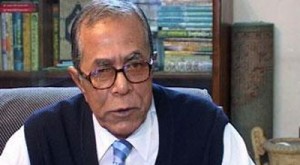 Dhaka, 21 April, Abnews:The Awami League Parliamentary Party on Sunday nominated Acting President and Speaker Advocate Abdul Hamid as the ruling AL candidate for the presidential polls slated for April 29.
Abdul Hamid is certain to become the 20th President as ruling AL has absolute majority in ninth Jatiya Sangsad to elect him President. AL president and Prime Minister Sheikh Hasina presided over the ALPP meeting that started at Jatiya Sangsad Bhaban at 11:10am, sources at the Parliament Secretariat said. 'The meeting unanimously nominated Abdul Hamid for the presidential elections,' senior Awami League leader Amir Hossain Amu told reporters after the meeting. Amu said Tofail Ahmed proposed the name of Abdul Hamid for the presidential race, while he (Amu) extended his support, backed by all the participants. ALPP chief and Prime Minister Sheikh Hasina chaired the meeting that lasted for nearly two hours. Later, a four-member ALPP delegation comprising Abdul Matin Khasru, Advocate Fazley Rabbi Mian, Whip ASM Feroz and Segufta Yasmin Emily went to the Election Commission (EC) office at Sher-e-Bangla Nagar to submit nomination papers for Hamid.
Meeting sources said latest political situation and opposition's ongoing anti-government movement also came up for discussion at the meeting that began at about 11:10 am. Abdul Hamid became the acting president on March 14 in accordance with the constitution after President M Zillur Rahman fell sick and was flown to Singapore for treatment. The meeting of Awami League Parliamentary Party endorsed the presidential candidate in presence of the party president Sheikh Hasina. AL candidate and Acting President Abdul Hamid is certain to become 20th President of the republic as the party holds absolute majority in the ninth parliament. Earlier, the party sources said Acting President and Parliament Speaker Abdul Hamid has been selected by the party high-ups as its Presidential candidate considering his acceptability and allegiance to the party. The Election Commission will scrutinize the nomination papers on Monday while the nomination papers could be withdrawn by April 24. The lawmakers of the ninth Jatiya Sangsad will elect the 20th President on April 29, said EC and parliament secretarial sources. Chief Election Commissioner Kazi Rakibuddin Ahmed on April 9 announced the presidential election schedule. He will take the Speaker's seat on April 29 for conducting the presidential election. But Hamid could be declared elected unopposed on April 24 if no other candidate files nomination or withdraws his or candidature on that day.
The highest post of the state fell vacant following death of President Zillur Rahman on March 20 and Speaker Abdul Hamid has been performing duties as acting president since then. As per constitutional provision the president must be elected within 90 days from the day the post fell vacant.
Abn/Sun-01/National/Desk/Mustafiz/Majumder/Fatema
রিপোর্ট শেয়ার করুন »