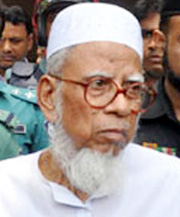 Dhaka, 12 May, Abnews : Central leader of Jamaat-e- Islami Abul Kalam Mohammad (AKM) Yusuf was arrested today immediate after the International Crimes Tribunal (ICT) issued warrant of arrest against him on war crimes charges. RAB personnel arrested Yusuf from his residence at house no- 37/A, road no-10/A at Dhanmondi around 1 pm and was taken to their office, operation officer of RAB-2 and additional superintendent of police Md. Raihan Uddin Khan told Abnews. The 84-year-old Jamaat leader Yusuf was taken to RAB-2 office, he said adding that he will be placed before the tribunal in accordance to its order.
The three-member ICT-1 headed by Justice ATM Fazle Kabir today took into cognizance the formal charge against Yusuf of committing crimes against humanity during the Liberation War in 1971 and issued a warrant of arrest for him. The tribunal also asked to place Yusuf before the tribunal within 24 hours of his arrest. The prosecution on May 8 submitted the formal charge against Yusuf, Jamaat leader and the alleged founder of notorious 'Razakar Bahini' that carried out crimes against humanity during the Liberation War.
Prosecutor Hrishikes Saha, Abdur Rahman Hawladar and Syed Sayedul Haque submitted the formal charge to the office of the ICT registrar. The prosecution pleaded for issuing arrest warrant against the Jamaat leader. In the formal charge, the prosecution brought 15 charges against Yusuf of crimes against humanity including genocide and murder. In the investigation the probe agency got substantial evidence that he was involved with the killing of about 700 people in one incident in a village of Bagerhat, Khulna, during the War of Liberation.
Yusuf was one of the most influential people of the then East Pakistan and used his position for all the bad things, prosecutor Saha said. The probe agency of the ICT submitted the investigation report against Yusuf on April 22.
Abn/Sun-01/Law & Crime/Desk/MR/Mustafiz/Fatama
রিপোর্ট শেয়ার করুন »