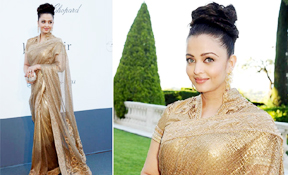 Dhaka, 24 May, Abnews : Bollywood's yummy mummy Aishwarya Rai, who made headlines for all the wrong reasons at Cannes Film Festival last year, aced the red carpet this year. However, her latest golden outfit at amFAR ruined it all.
Aishwarya Rai Bachchan extended her stay at Cannes to attend the fashion fundraiser by amfAR, the show featured designs by Tarun Tahiliani that were auctioned away. In keeping with the golden theme, Aishwarya went glam and donned a golden sari with a gold blouse by designer Tarun Tahiliani.
The sari looked rich and beautiful, however the gold on gold clashed horribly. The beauty wore her hair in a tight high updo that accentuated her features and carried a golden clutch. Though, she looked stunning, the outfit was a bit of an eye-sore.
After a series of black and white, Aishwarya surprised all with a pop of colour as she made her way down the red carpet for the Cleopatra premiere in a teal colored satin Gucci gown.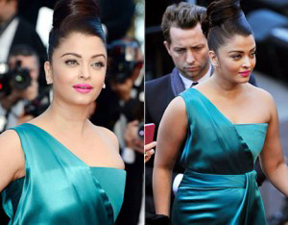 Though the choice of colour worked superbly in the diva's favour, the satin material was a big let-down for a red carpet event. The bright pink lips were liked by many but the over done hair-do added to the disappointment.
A media interview at Cannes saw the actress sizzle in an all-black avatar, a black fitted top with lace-ruffle neck paired with tailoured pants. A deep red lip-color finished off her look. It was classy!
After being the victim of much criticism for her red carpet choices last year, which accentuated her post-pregnancy weight-gain, Aishwarya ensured her fans and the media alike that she is back in shape and flaunted her curves in a black Zach Posen mermaid cut skirt, Saint Laurent shirt, Armani belt and Casedei shoes for her interview session upon arrival at Cannes.
Abn/Fri-01/Lifestyle/International/Desk/MR/Mustafiz/Fatama
রিপোর্ট শেয়ার করুন »