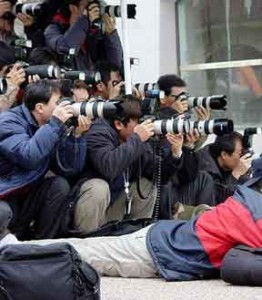 Dhaka, 30 June, Abnews : The eighth Wage Board today recommended for an average 70 percent hike in the salary and other perks for journalists and employees of the newspapers and press. The Wage Board Chairman Justice Kazi Ebadul Haque submitted its proposals to Information Minister Hasanul Haq Inu, MP this morning, according to a press release of the Ministry of Information.
Acting Information Secretary Mortuza Ahmed, Principal Information officer, Aminul Islam, Joint Secretaries Mohammad Abul Hossain and Md Motiur Rahman Khan, Deputy Secretary GM Nazmul Hossain Khan, Personal Secretary to the Information Minister Abdullahhil Kayum and high officials of the ministry were present on the occasion.
The board recommended 70 percent hike in the basic wages and other perks for the journalists and employees. The eighth Wage Board divided the newspapers into five categories on the basis of circulation and total income. The government formed the latest wage board on June 18 last year to recommend a new structure of salaries for journalists and employees.
Abn/Sun-01/Media/Desk/MR/Mustafiz/Fatama
রিপোর্ট শেয়ার করুন »