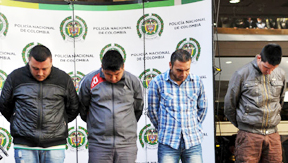 Dhaka, 19 July, Abnews : Six Colombians have been charged in the United States for the kidnapping and murder of a US drug enforcement agent in Bogota in June, the US justice department said Thursday. The six men are accused of killing James Terry Watson, who was stabbed to death on June 21 while fighting off an apparent robbery attempt.
With today's arrests, we take an important step towards ensuring that those allegedly responsible for his senseless murder are brought to justice, Attorney General Eric Holder said in a statement. The men have been charged with two counts of second degree murder, one count of kidnapping and one count of conspiracy to kidnap, the statement added.
The indictment alleges that Watson got into a taxicab operated by one of the defendants, where he was attacked by two others- stabbed and hit with a stun gun. The justice department claims the six men were involved in a conspiracy to lure victims into a position where they could be attacked and robbed in taxicabs.
Watson was assigned to the DEA office in the Colombian city of Cartagena and was in Bogota on a temporary assignment, the DEA said. US Ambassador to Colombia Michael McKinley said he had recently married a Colombian woman. Before working for the DEA, he had served with the US Marshals Service and the army. Both US and Colombian officials blame his death on organized crime, unrelated to Watson's work as a DEA agent.
The six indicted in the US are: Gerardo Figueroa Sepulveda,38; Omar Fabian Valdes Gualtero, 27; Edgar Javier Bello Murillo,26; Hector Leonardo Lopez, 23; Julio Estiven Gracia Ramierez, 30;and Andris Alvaro Oviedo-Garcia, 21. A seventh Colombian, Wilson Daniel Peralta-Bocachica, 30,was charged with attempting to destroy evidence related to the crime.
Abn/Fri-01/International/Desk/MR/Mustafiz/Fatama
রিপোর্ট শেয়ার করুন »