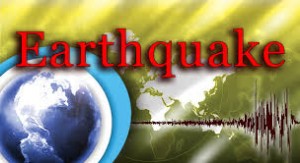 Dhaka, 25 January, Abnews : A 6.1-magnitude earthquake struck off Indonesia's main island of Java on Saturday, the US Geological Survey reported, but local officials said there was no risk of a tsunami.
The quake struck at 12:14 pm (0514 GMT), 39 kilometres (24 miles) south-southeast of the coastal town of Adipala in Central Java province at a depth of 83 kilometres, the USGS said.
There's no potential for a tsunami and we haven't received any reports of damage or casualties so far," meteorology, climatology and geophysics agency technical chief Suharjono, who goes by one name, told media. Indonesia sits on the Pacific Ring of Fire, where tectonic
plates collide, causing frequent seismic and volcanic activity. A 6.1-magnitude quake that struck Aceh province on Sumatra island in July 2013 killed at least 35 people and left thousands homeless.
Abn/Sat-02/International/Desk/MR/Mustafiz/Fatama
রিপোর্ট শেয়ার করুন »