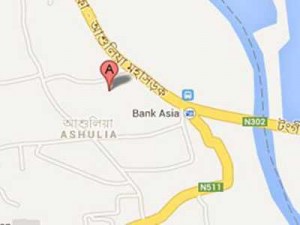 Dhaka, 20 November, Abnews : At least 20 readymade garment factories in Ashulia, a Dhaka suburb, have shut for the day in the face of workers' demonstration. The workers are demanding a minimum monthly wage of Tk 8,000, a few notches higher than the Wage Board recommendation of Tk 5,300.
Workers were out on the streets at Shimultala, Jamgarha, Narsinghpur and Ziararo, agitating to press numerous their demands. But unlike the incidents of the past two days, there were no reports of any untoward incident on Wednesday, police said.
An industrial police officer said workers had begun their agitation in the morning. They took to the streets in between 9 am and 10:30 am but went away without creating any trouble, said Inspector Abdus Sattar of Ashulia zone's Industrial Police-1.
He also said other factories in the area were working normally. Additional police have been deployed at Ashulia to prevent tension. Garment owners finally accepted a minimum Tk 5,300 monthly salary as prescribed by a government-endorsed wage board following Prime Minister Sheikh Haisna's interference.
However, several workers bodied have demonstrating for the past several days demanding Tk 8,000 minimum wage. They have been locked horns with police at Savar, Ashulia, Narayanganj and Gazipur. Two garment workers died in clashes in Gazipur on Sunday.
Abn/Wed-02/Economics/Md. Nazmul Houda/Mustafiz/Fatama
রিপোর্ট শেয়ার করুন »