Dhaka, 15 May, Abnews : Oposition BNP led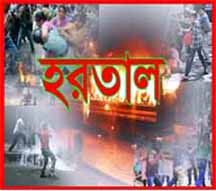 alliance Wednesday announced a nationwide dawn-to-dusk hartal for May 19, Sunday protesting the undemocratic practices of the government. Shamsuzzaman Dudu, an adviser to BNP Chairperson Khaleda Zia, made the announcement at a press briefing at the party's Nayapaltan office this morning. Sources said the decision for a general shutdown came after the Dhaka Metropolitan Police (DMP) denied BNP permission to hold a prescheduled rally in front of the party office on Wednesday.
This was the third time in a week that the opposition was forced to abandon its prescheduled rallies. Terming such attitude undemocratic, BNP demanded resignation of the government and restoration of the caretaker government system. Earlier, the party had announced a rally on May 7 but had to back off because of a police ban on all sorts of public meetings and rallies.
Later it announced another rally on May 13 which met the same fate. Now, for the third time, it had to retreat from its plan to organise a rally.
Abn/Wed-01/Polits/Desk/Liton/Mustafiz/Fatama
রিপোর্ট শেয়ার করুন »