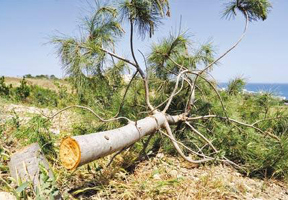 Dhaka, 24 June, Abnews : A total of Ten thousand fortytwo trees of the Department of Forest (DoF) were sawn off in 41 upazilas across the country by unruly opposition activists during their hartal programmes in the last few months. Environment and Forests Minister Dr Hasan Mahmud informed the House today in reply to a tabled question from treasury bench member Md Nurul Islam Sujan.
The minister said the rampage during the opposition-sponsored hartal caused a huge damage to trees beside roads. Especially after the announcement of verdicts against war criminals, he said, 10,042 trees controlled by the DoF were cut in 41 upazilas in 16 districts from January to May, he said. The districts are Noakhali, Luxmipur, Bhola, Patuakhali, Chittagong, Cox's Bazar, Dinajpur, Satkhira, Bogra, Joypurhat, Jessore, Sirajganj, Chandpur, Nilphamari, Pabna and Jhenidah.
Dr Mahmud said these losses could not be overcome within shortest time, adding, however, the government remains active in this regard. The DoF is continuing its normal tree plantation campaign in these areas, he said. He said 56 cases have been filed by the DoF accusing over 100 people for illegally felling trees during the hartal. The minister said 83 accused have already been arrested, and efforts are on the by the administration to apprehend the rest of the accused.
Responding to another question from ruling party lawmaker Nurunnabi Chowdhury, Dr Mahmud said a massive afforestation programme has been undertaken by the present government for protecting and development of overall environment and preserving biodiversity. He said more than 11 crore saplings are now being produced in every year, which was only four crore during the rule of the past government.
The minister said the DoFF has been undertaking and implementing various important programmes across the country to raise forest land. The amount of forest land in seven divisions is now 16,03,869.48 acres, he said.
Dr Mahmud said 25 percent forest land should have in a country for sustainable environment. But according to the geo- nature of Bangladesh, he said, the country needs minimum 20 percent forest cover. The environment minister said steps have been taken to create forest cover on fallow lands apart from the forest land.
Abn/Mon-01/National/Desk/MR/Mustafiz/Fatama
রিপোর্ট শেয়ার করুন »