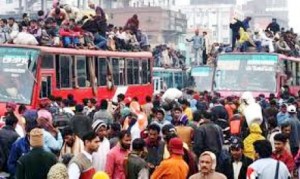 Dhaka, 19 November, Abnews : Approximately 1.4 million Bangladeshi people have registered for work permits in Malaysia, the government in Putrajaya said. However, only 500,000 of them were qualified to work in the country's plantation sector.
Malaysia's High Commissioner to Bangladesh, Norlin Othman, said since Malaysia and Bangladesh signed a memorandum of understanding at the end of 2012 on recruiting workers for the plantation sector, about 1.4 million Bangladeshis had registered to work in Malaysia, the Malaysia Chronicle reported.
After the screening was done, only 500,000 qualified while the other applicants were rejected because they are too old or too young for the job, or are over-qualified, such as university graduates, Othman said.
Just  10,000 applications were received from Malaysian employers to recruit foreign workers for the plantation sector.
According to the records, about 320,000 Bangladeshis are working lawfully in the different sectors in Malaysia at present. Since 2010, Bangladeshis working in Malaysia have been remitting home about 3 billion ringitt ($952 million).
Abn/Tue-02/Economics/Md. Nazmul Houda/Mustafiz/Fatama
রিপোর্ট শেয়ার করুন »