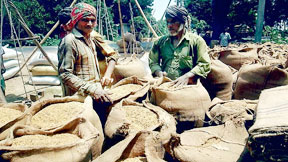 Dhaka, 24 August, Abnews : Bangladesh has achieved laudable success in expanding stress tolerant paddy seed multiplication programme during past three years increasing rice production substantially to ensure food security under adverse climate.
Under the programme, cultivation of flood, drought and saline-tolerant paddies has become popular among farmers after repeated success they achieved ushering in a new era in the country's agriculture sector and food security, concerned experts said.
Sustainable Rice Seed Production and Delivery System in Southern Bangladesh and Cereal Systems Initiative in South Asia (SRSPDS-CSISA-BD) projects are implementing the programme under Stress Tolerant Rice for Poor Farmers in Africa and South Asia (STRASA) Project.
The USAID and Bill & Melinda Gates Foundation (BMGF) are extending assistances through International Rice Research Institute (IRRI) in distributing seeds among farmers for countrywide expanded cultivation of these paddies through seed multiplication.
Senior Specialist-Agricultural Development of SRSPDS-IRRI Project Saidul Islam said 2,300.8 tonnes of different stress tolerant paddy seeds were distributed during this Aman season among 7,66,900 farmers in stress prone areas to cover 92,032 hectares land.
Besides, 876.8 tonnes seeds of saline tolerant variety BRRI dhan47 and BINA dhan8 were distributed among farmers in the country's saline prone southern districts to produce 79,636 tonnes seeds from 35,072 hectares land.
In addition to this, 1,359.3 tonnes seeds of flood tolerant variety paddies like BRRI dhan51, BRRI dhan52, BINA 11, and BINA 12, drought tolerant varieties like BRRI dhan56 and BRRI dhan57 were distributed among farmers during this Aman season.
Besides, 64.7 tonnes seeds of moderately flood, drought and drought-saline tolerant variety paddy seeds have also been distributed among farmers in the stress prone areas throughout the country.
In addition, over 2,50,000 farmers are expected to cultivate these stress tolerant variety paddies in more 1,92,032 hectares land using their own seeds produced by them during the last Aman season under the programme in all 64 districts in the country.
The farmers will produce nearly 13,05,440 tonnes of these stress tolerant paddy seeds through cultivating in over 2,84,064 hectares land in the country's stress prone areas with an average yield rate of over 4.42 tonnes paddy per hectare," Saidul added.
Talking to BSS, farmers Anukul Chandra, Jaladhar Barman, Sukumar, Beauty Begum, Khabir Uddin and Chand Mian said they have already transplanted seedlings of these stress tolerant paddies getting excellent yields last year after submergence for 10-17 days.
After recession of floodwaters, the partially damaged paddy plants again grew well and we got excellent yield rates when other traditional Aman paddy plants were totally damaged after reaming under floodwaters in adjoining areas, they furthered.
Country Manager of BMGF-STRASA- SRSPDS Projects of IRRI in Bangladesh Dr M A Bari said more farmers have been cultivating different stress tolerant variety paddies in the country using the distributed seeds and their own seed stocks.
Talking to BSS, Regional Project Coordinator of STRASA-IRRI and Team Leader of USAID-SRSPDS Projects of IRRI Dr US Singh said Bangladesh has already achieved overwhelming success in farming different stress tolerant variety paddies in recent years.
Bangladesh would achieve sustainable food security soon by overcoming colossal crop losses being caused by floods, salinity and draughts through expanded farming of the stress tolerant paddies, he mentioned.
Additional Director of the Department of Agriculture Extension Sikander Ali said cultivation of flood-, drought- and saline-tolerant paddies has become popular ushering new hope in the country's agriculture sector to attain food security under adverse climate.
Abn/Sat-01/National/Desk/MR/Mustafiz/Fatama
রিপোর্ট শেয়ার করুন »